Discover new ways to actively manage and optimize your operating and service processes and meet simultaneously all the requirements of fiscal data readout. With Vensolutions, consisting of the components Vencube (vending machine hardware), Ventool (mobile solution for all on-site activities) and Vensoft (central online platform), we create the optimum conditions for you.
The Vencube is the heart of the product family. Placed in the stable intermediate position between the vending machine controller and the payment systems, every cash flow and sale is automatically logged. An efficient monitoring of the machine condition is thus possible at any time. At the same time the development of the turnover is secured by targeted monitoring of payment processes and determination of cash and cashless turnover as well as the change inventory, effectively. Taking into account all fiscal demands on storage, retention and auditability (GoBD), the Vencube was designed to protect and relieve you in all matters of electronic fiscal data readout.
Standard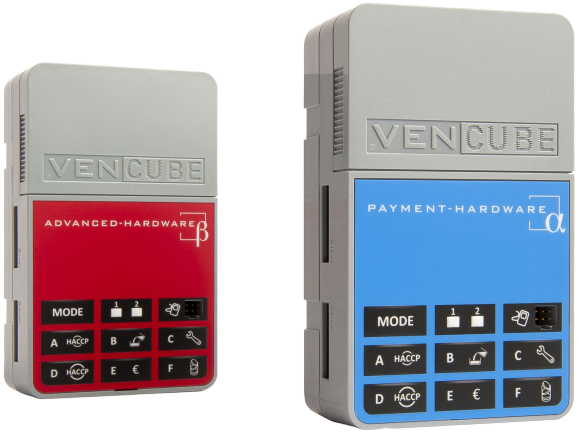 Professional
The application Ventool primarily serves the configuration of Vencubes. A purchase of additional hardware is not required - the installion of the app on a commercially available Android-based device (smartphone or tablet) is sufficient. With the app, all movement and settlement data can be read on site and uploaded directly to the online platform (Vensoft). The inventory is carried out fully electronically on the spot - even in places without mobile coverage. Once a connection to the network is established, a fully automated exchange of data with Vensoft takes place.
the "highlights"
The Vencube will transmit all datasets in real time or after defined intervals directly to the online platform (Vensoft). Vensoft will also store and visualize the data collected. Technical messages (including error messages) are sent via a 3G modem to the online platform. Through the platform, the operator will be informed immediately via SMS (free) or e-mail on all events in the vending machine. In addition, by using a Global SIM access to the best available network is always certain.

Your safety is our highest priority:
All records are encrypted via SSL and also signed to verify the authenticity and integrity. To prevent unauthorized openings or even manipulation, the housings are sealed by default. In addition, all Vencubes, regardless of size and power, have a SAM slot and are thus compatible with INSIKA.
Vensolutions is only complete with Vensoft, the online plattform. With it, you get the right tool, which allows you to manage the daily operations quickly, efficiently and with the usual high process quality.
With Vensoft manual route planning, vague error messages or price changes on site belong to the past - with just a few clicks. All you need is an Internet connection - the rest is done practically by itself
With Vensolutions highest functionality and maximum safety are combined as an efficient solution!.